October 29, 2018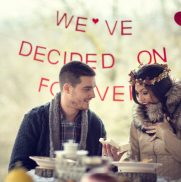 Engagement season is upon us! Did you know that 35-40% of engagements occur between November and February? Maybe you also are aware that some premarital counseling studies show the practice of seeking premarital counseling decreases the likelihood of divorce by 50 percent! (That's much better than the lottery odds!)
If you're one of those happy couples, please consider seeking pre-marital input using SYMBIS. This online assessment provides your certified therapist with information that is specific to you and your future together.
Once both partners independently complete the assessment, sessions are scheduled to process strengths and concerns that arise.
Topics include:
Family of origin history
Expected roles in relationship
Sexual expectations
Financial approach
Personality similarities and differences
Spiritual harmony
Caution flags
Potential conflict areas
Level of social support
Call our office (302-738-6859) today to schedule your SYMBIS assessment!